Disclosure – If you buy something via our link, we may earn a commission with no additional expense to you
The Master Lock 5900D Set Your Own Combination Portable Personal Safe features durable construction made to withstand the everyday elements, and is water resistant. The safe measures 2-1/5in (57mm) H x 9-2/5in (23.9cm) W x 5-1/10in (13.1cm) D; and is ideal for recreation, campus, office, travel or leisure use. The safe includes a cable to wrap securely around a fixed object or use as a carrying handle.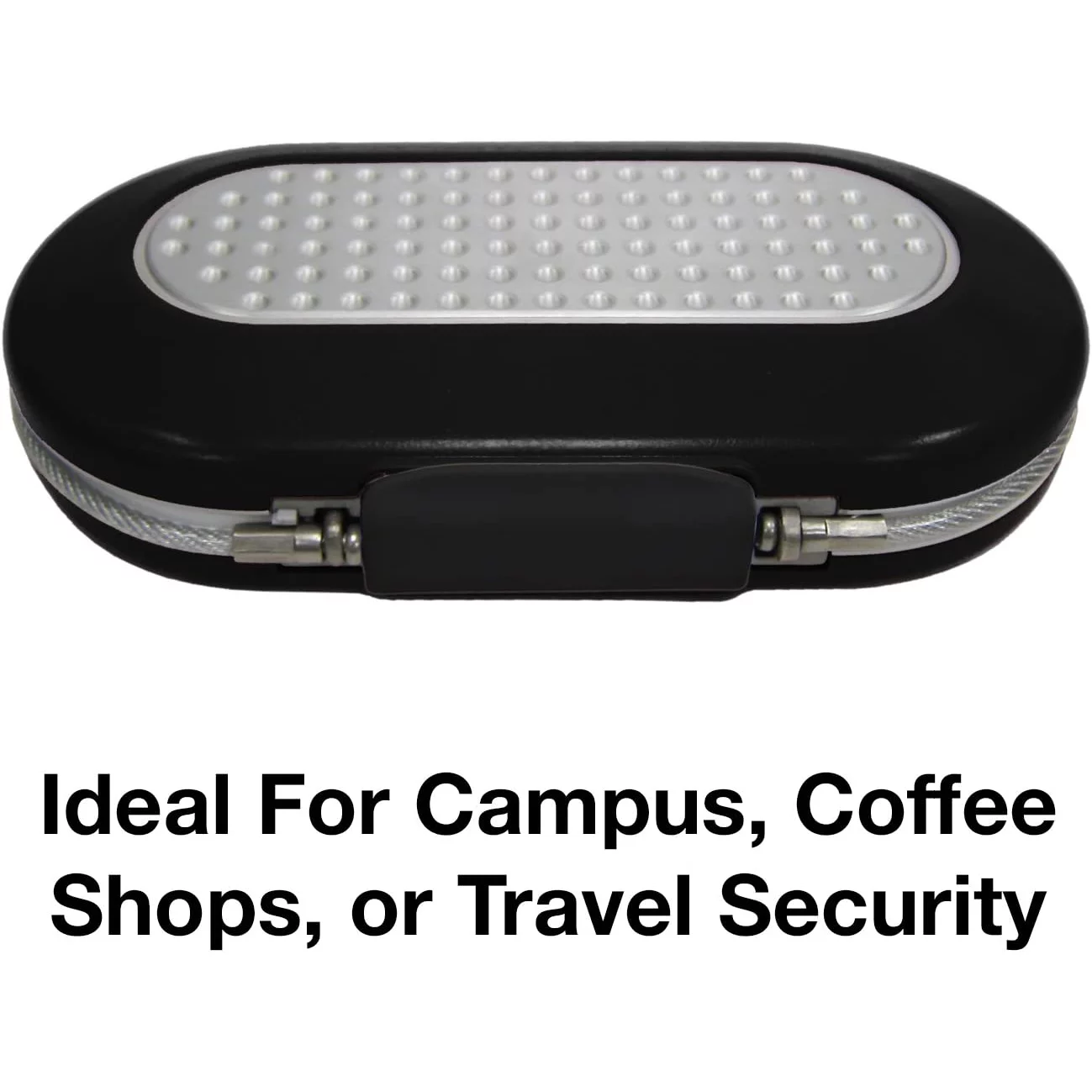 Features
Durable, water-resistant construction keeps valuables secure and dry. Shock-absorbing foam lines the safe's interior to keep items protected during transport.
Set your own four digit dial combination for easy recall and convenience.
The integrated cable locks the safe down to a work station, desk, or other fixed object. The cable also doubles as a convenient carrying handle while in transit. It wraps and locks conveniently around the outer edge of the safe for easy storage when not in use. The integrated braided cable is 20 inches in length and 4.75mm in diameter.
Keep portable electronics such as MP3 players and gaming devices safely stored and ready to use. The ear bud/charging cable access port allows the user to charge or use their devices while they are securely stored for on-the-go enjoyment.
Specifications
| | |
| --- | --- |
| Color | ‎Gunmetal Grey |
| Brand | ‎Master Lock |
| Lock Type | ‎Combination |
| Material | ‎Multi |
| Alarm | ‎Anti-theft |
| Water Resistance Level | ‎Water Resistant |
| Item Weight | ‎0.71 Kilograms |
| Chamber Width | ‎9.5 inches |
| Product Dimensions | ‎5.1″D x 9.41″W x 2.2″H |
| Included Components | ‎1 |
| Special Feature | ‎Water resistant |
| Manufacturer | ‎Master Lock |
| Part Number | ‎5900D |
| Item Weight | ‎1.56 pounds |
| Product Dimensions | ‎9.41 x 5.1 x 2.2 inches |
| Country of Origin | ‎China |
| Item model number | ‎5900D |
| Size | ‎9-17/32 in. Wide |
| Finish | ‎Gunmetal |
| Item Package Quantity | ‎1 |
| Special Features | ‎Water resistant |
| Batteries Included? | ‎No |
| Batteries Required? | ‎No |
| Warranty Description | ‎One year limited warranty |